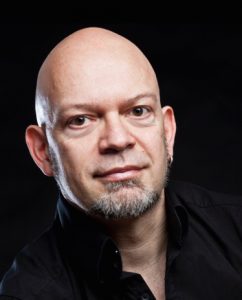 Stefan Wurz (Music, *1964 in Karlsruhe, lives and works in Hildesheim) has been playing numerous instruments and composing since his earliest youth, initially for various rock bands and theatre groups. He studied musicology and German literature and published a study on the myth of the femme fatale in opera. Today he works as a freelance composer, arranger, musical director, producer, guitarist and pianist, among others for the Hannover State Opera and the publishing house Felix Bloch Erben. He is the composer of the musicals Alice (world premiere 1993), Schöne neue Welt (world premiere 1994), Helle Nächte (world premiere 2006) and Brandnacht (world premiere 2010). His splatter opera Da Capo al Fine was a surprise success at the musical competition Works in Progress 2002. His Rockquiem, a rock show after Mozart's Requiem, was successfully produced in the Czech Republic, Italy, Hungary and Norway. His works combine the knowledge of the classically trained composer with the emotion of the experienced rock musician.
Wolfgang Walk (Idea, Story, Lyrics, *1961 in Düsseldorf, lives and works in Karlsruhe) studied economics, mathematics, computer science, philosophy and German literature in Marburg and Karlsruhe. From 1987-1994 he successfully managed an indie discotheque in Karlsruhe before joining the computer games industry as an author and project manager. As one of the most experienced producers and authors of computer games in Germany, he worked for Blue Byte and Massive Development before founding his own production company in 2005. Since 1995 he has been involved in charttoppers such as The Settlers 2-4, Archimedean Dynasty, the AquaNox series, Incubation and the critically acclaimed art-game project The Void (Russian: Turgor), which was shown in Moscow at the Museum of Modern Arts. He is a two-time nominee for best storytelling at the "German Developer Award". He regularly posts articles on the state of games culture in his blog "Der Blindband" (https://www.thevirtualmirror.com/DerBlindband/) and contributes to Germany's biggest games podcast "The Pod" (https://www.gamespodcast.de).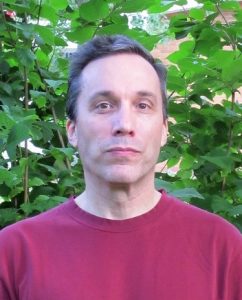 Mark L. Barrett (Editor, *1961 in Iowa, lives and works in Iowa City) is a graduate of the University of Iowa, where he studied storytelling in film, literature and theatre. He worked as a screenwriter in Los Angeles for a while before he started writing computer games in the early 1990s. He has been working on games with Wolfgang Walk since 1996, most recently on "In Between" (2015) and "Phoning Home" (2017). For "The Virtual Mirror" he was able to contribute his inexhaustible experience in storytelling and his native language knowledge of American English. He regularly publishes his insights and views on storytelling in his blog https://ditchwalk.com.